When the Sukkot festivities in Staten Island come to an end, the post-holiday cleanup becomes the next priority. The ground is often littered with fallen branches and citrons, making the cleanup process essential. This is where G&R Tree Service comes in, specializing in Post-Sukkot Cleanup in Staten Island.
What is Sukkot?
Sukkot is a week-long Jewish festival that comes five days after Yom Kippur. During this holiday, it is traditional to build a sukkah, a temporary outdoor dwelling made from natural materials. Families spend time in the sukkah to commemorate the Israelites' 40 years of wandering in the desert after the Exodus from Egypt. The sukkah's roof is often made from tree branches, which is a significant element that ties into the theme of natural, renewable resources. Learn more about Sukkot.
Why is Post-Sukkot Cleanup Crucial?
Sukkot leaves behind not just cherished memories but also considerable debris, such as tree branches and other organic materials used for the sukkah. Proper disposal of this debris is crucial for several reasons. Firstly, it ensures the safety of your outdoor space, eliminating trip hazards and potential homes for pests. Secondly, proper disposal is aesthetically pleasing, returning your yard or property to its pre-holiday state. Lastly, it may be necessary to dispose of this organic material in a way that respects the religious and cultural sensitivities associated with the holiday, whether that means composting the natural elements or reusing them in an ecologically responsible manner.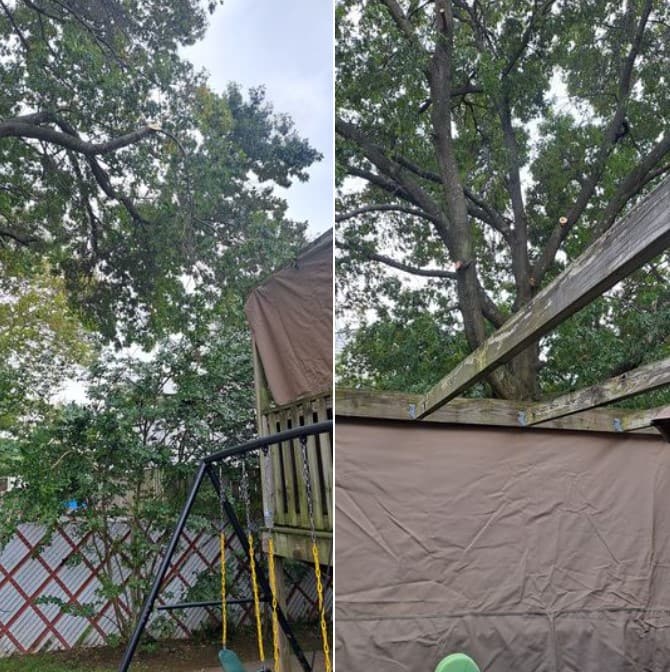 What Sets G&R Apart for Your Post-Sukkot Cleanup in Staten Island?
Our 15+ years of experience in Staten Island guarantees top-quality service. Owner Glen Gabel personally oversees each job, ensuring it meets our high standards.
We're fully insured, offering peace of mind alongside impeccable service. Additionally, free, no-obligation estimates help you manage post-holiday expenses effectively.
For more information, check out our reviews on Google Maps and our top rating on Expertise.com. To learn about our complete range of services, visit our Services page.
Don't let the daunting task of Post-Sukkot Cleanup in Staten Island overwhelm you. Trust G&R Tree Service for a hassle-free experience.
CONTACT G&R TREE SERVICE TODAY AT 718-815-7897 TO SCHEDULE YOUR SERVICE APPOINTMENT.